Highland Fling to haggis - care homes mark Burns Night
Residents and staff at care homes marked Burns Night with themed meals and activities.

POSTED: Jan 27, 2022
Haggis, bagpipes and even a deep-fried Mars bar were part of Burns Night celebrations on Tuesday for care home staff and residents.
Those marking the occasion included residents at Foxholes Care Home, near Hitchin, who enjoyed a Burns-inspired supper with a traditional Scottish menu.
The main dish was centred around haggis, served alongside the traditional neeps and tatties. A bagpiper played in the patio area, before a dessert of clootie dumpling, a fusion of carrot and fruit cake, and deep-fried Mars bar for some particularly adventurous residents.
A traditional Highland Fling routine was led by Adele Querelle, activity coordinator, before a recital of Burns' works was performed in tribute to the Bard by resident Hilmar Warenius.
Sylvia Crombie, a Scottish resident at Foxholes, showed the home how the highland fling and other traditional Scottish dances are done.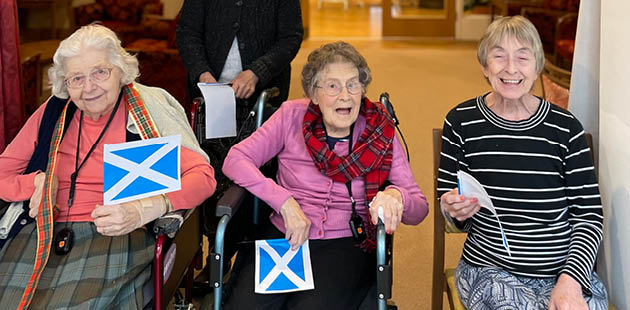 A Scottish menu, readings of Burns' works and a bagpiper were part of celebrations to mark Burns Night.
Speaking after the Burns Night celebration, she said: "It was a wonderful way to help reminisce about home and I was overjoyed by the outcome, especially after so many years since my previous visit. As a child, my parents and I would regularly celebrate Burns Night, which was a great way to embrace our Scottish heritage. I'm grateful that Foxholes went to such depths to help celebrate one of Scotland's most popular national holidays."
Neil Gandecha, estate manager at Foxholes Care Home, says: "Burns Night was another great way to bring all of our residents together and keep spirits high throughout another challenging winter period. It's important that we respect and celebrate our residents' cultures, so it was nice that we could help bring a bit of home to our four Scottish ladies in what proved to be a special occasion."
Elsewhere, Norse Catering organised a Taste of Scotland lunch for its care residents, including Balmoral chicken with neeps and tatties, followed by a raspberry cranachan trifle, and residents at the HICA Group took to arts and crafts to create Burns Night banners.
You may also be interested in…