A fresh take: Refreshing your menu for spring
From simple tweaks and meat-free twists to making the most of Easter, we explore ideas for caterers looking to revitalise their menus.

POSTED: Mar 15, 2022
What's the most popular dish on your menu? Perhaps it's fish and chips on a Friday, your Sunday roast or a hearty hotpot – whatever the case, we're sure you have a roster of meals which always go down well.
It can be tempting in care catering to stick to familiar favourites – after all, keeping residents happy and healthy is your priority. But trying something new can unlock fresh experiences and flavours, build excitement around dining and reveal new ways of increasing nutritional intake. But, as you well know, planning a care home menu is a juggling act. Dishes must be packed with nutrients, flexible enough to cater to a huge range of dietary needs and popular with residents. With meals likely to be a highlight of their days, finding options which tick all the boxes is key.
"Care homes should be considering a breadth of things when planning their menus, from more technical factors like portion sizes, special/cultural diets and nutritional status, right through to the way the food is served – how it looks on the plate and the way it's promoted to residents, ensuring choices meet personal preferences too," says Andy Williams, national account manager at Creed Foodservice. "To plan successful menus, it's important that all of these elements come together. Sitting down to eat is a big part of many residents' days, so ensuring it's a pleasurable and positive experience is incredibly important."
After all, mealtimes are much more than vitamins and minerals for residents, providing much-needed opportunities for interaction and socialisation (one of the best ways for older people to improve their mental health). Caterers should aim for a balance – exploring new options while serving familiar favourites that are guaranteed to be a hit.
After all, mealtimes are much more than vitamins and minerals for residents, providing much-needed opportunities for interaction and socialisation (one of the best ways for older people to improve their mental health). Caterers should aim for a balance – exploring new options while serving familiar favourites that are guaranteed to be a hit.
The Compass Group's White Oaks team hopes to blend both by focusing on a traditional menu for 2022, while introducing on-trend or regional twists. "On Saturdays we have a chef's special where the chefs can choose something for the residents, such as a favourite or a regional favourite," says Bruce Toon, culinary director, healthcare. "These menus would include meals such as creamy chicken korma, served with royal pilau rice, garlic and coriander naan and mango chutney or traditional dishes such as Scouse or Lancashire hotpot, served with pickled red cabbage – this is where our chefs can really tailor and develop our exciting offers. Suppers feature hand-crafted soups with flavours ranging from classic roasted heritage tomatoes and charred crimson bell peppers, to homemade parsnip and cumin soup."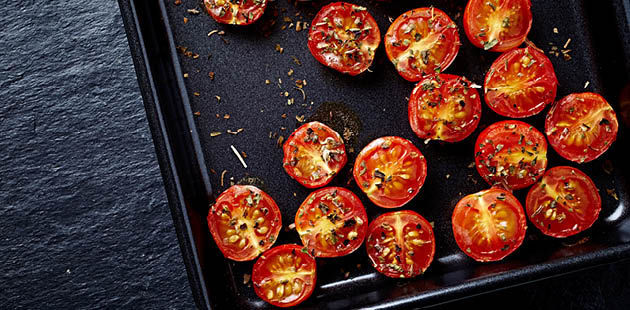 Care caterers will know well the love for dishes which remind residents of yesteryear. Shepherd's pie, using pulled and slow-cooked ground lamb, served with cheddar mash, always proves popular, Toon says. He suggests, as a more adventurous option, caterers could try venison croquettes with buttery chestnut mushrooms and jus.
Desserts are one of the best ways to evoke memories, Toon adds, including well-loved options such as apple crumble and custard, and says White Oaks hopes to introduce dessert trolleys to its homes as a culinary centrepiece.
There are few better ways to find inspiration for new dishes than by turning to fellow chefs, says Chris Bonner, development chef at HC-One. The group has a 1,700-member strong private Facebook group of its caterers, where they swap tips, best practice and recipe success stories. "It's one of the best ways to encourage best practice, share experiences – the amount of support chefs give each other is great," he says.
HC-One operates six-week menu cycles, reflecting changes in the season, and uses software CaterCloud to create a database of 1,200-plus recipes, which provides full nutritional information that can be viewed across a day's dishes.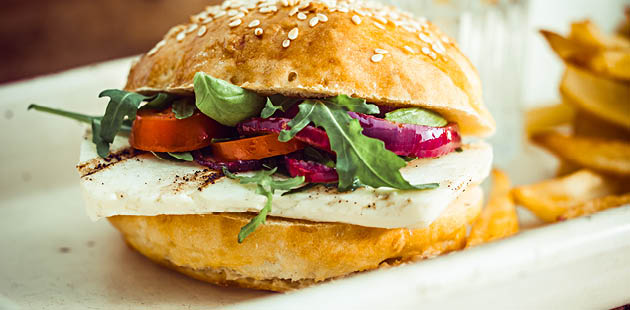 He says they regularly consult residents on their favourite dishes at Taste and Try sessions, and that requests often centre on dishes which they would have enjoyed as children. "There is nothing like nostalgia with food," he adds. "Walking to our home and smelling the home baking of fresh bread rolls, for example – if that doesn't capture someone's soul when it comes to food, I don't know what will."
Tweaking existing dishes on your menu is a simple way to introduce new tastes. Joel Carr, development chef at Young's Foodservice, says while traditional fish dishes are consistently popular, caterers looking to try something new can start by adding twists to existing meals, such as serving its Wild Alaska pollock with Katsu curry sauce, chunky chips and an edamame bean and pea crunch.
The nutritional value of fish – it is a source of high-quality protein, vitamin D and omega-3 fatty acids – means it is always likely to feature on care menus. "The UK government advice is to eat two portions of seafood a week, one of which should be oily, so eat a range of fish to leverage all that this valuable source of protein can deliver," explains Carr. "Using our frozen seafood means that caterers can offer a wider variety of recipes without compromising on quality, and the Young's Foodservice portfolio is the best way to make the most of fish on menus. We have a raft of recipes for care home caterers. As well as helping with menu planning, reducing waste and improving portion control, using frozen seafood means that chefs can offer a wider variety of species on menus year-round without compromising on quality."
Alison Smith, global product developer for Mars Foodservice, agrees that operators should experiment with new flavours. "So long are the days where standard dishes and bland flavours cut the mustard; the current generation of care home residents desire more variety at mealtimes, both in terms of food styles and flavours," she says.
"As such, an increasing number of care home caterers are now looking to incorporate the rich flavours of the globe into their menus: from the vibrant tastes of Mexico, rich flavours of India through to the fresh savours of Italy, caterers can transport their customers abroad, by taste, when adding world foods to the menu." Smith adds that its ready-touse sauces such as Dolmio Professional make testing recipes straightforward.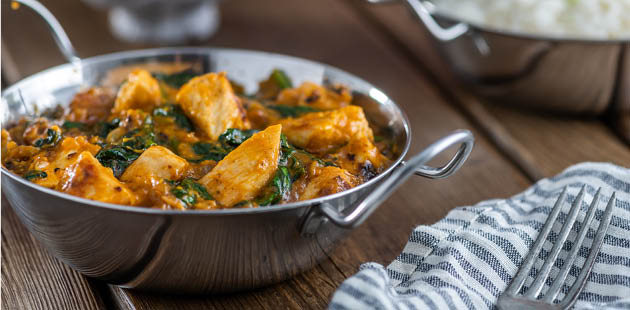 A dish made using Ben's Original
Going green
The rise in vegan and vegetarian diets may be taking place at a slower pace in care homes than among the wider public, but it is certainly not a trend to be ignored. According to charity Vegetarian for Life, the number of vegan care home residents increased by a massive 167% from 2014 to 2019, and it estimates there are around 7,000 residents in care in the UK who are vegetarian or vegan.
Care homes will have been providing vegetarian options as standard for some time, but with the focus on a meat-free diet growing around the world, now could be the time for operators to refresh their menus and consider new ways of serving meat-free meals. Bonner says as part of the operator's special diets programme it has recently made the Vegetarian for Life Memory Care Pledge, which asks homes to ensure residents who enjoyed a meatfree diet but who now have capacity issues or memory loss are still supported to uphold their beliefs.
Vegan diets remain relatively rare in care settings, Bonner says, but when asked if HC-One was seeing an increase in vegetarian diets, he says: "Slowly but surely, yes we are." A recent poll with his catering teams revealed that, of roughly 400 respondents, every home had a vegetarian resident. "That opened my eyes," he says. "We have always offered a meat-free option whatever season it may be – in spring and summer it might be a light, fresh salad, and in autumn and winter it might be stews, with alternative proteins, lentils and pulses. But it is coming to care homes and we need to be prepared."
Swaps to make dishes meat-free are simpler than ever as interest in vegetarian recipes grows and the number of alternative products on the market rises. Gordon Lauder, managing director at Central Foods, says using products such as its KaterVeg vegan mince make it straightforward and suggests caterers looking for a straightforward swap try a vegan shepherd's pie or, for something more adventurous, vegan chilli corn tacos.
"The popularity of plant-based meals has grown so much and over a sustained period that in no way can it be described as a passing trend – it's well and truly here to stay," he says, adding: "We're definitely seeing more and more evidence that the interest in, and demand for, great-tasting vegan products is increasing all the time, whether it is for health, environmental or sustainability reasons."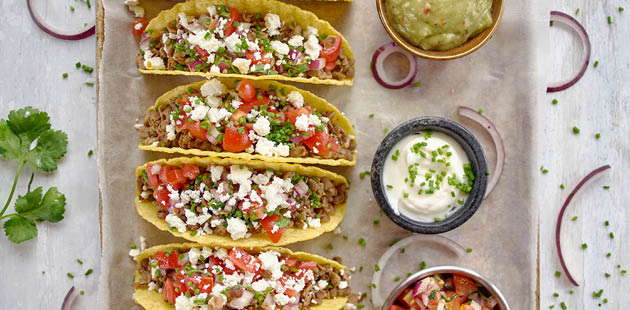 Tacos made using KaterVeg's vegan mince
Initiatives such as meat-free Mondays, where people swap to a meat-free diet once a week, could be an easy way to see if introducing more vegetarian and vegan alternatives is a success in your care home, he says. "Perhaps start off with traditional favourites such as shepherd's pie, with vegan mince as the main ingredient, and then gradually introduce more adventurous meat-free options."
Meat-free diets may still be less common in care settings than across wider society, but the change is being felt in the sector. Toon says caterers across its White Oaks team have noticed a shift. "We are also seeing an increase in demand for vegetarian meals, with people focusing on health and sustainability more widely across our healthcare estate and this is certainly a food trend that's on the rise more generally," he explains. "In our care home settings we ensure variety and so we also offer a vegetarian option at each mealtime."
Research published in September by Quorn found 41% of UK households are now flexitarian or meat-tree. "You only have to look at the shift in supermarket aisles in recent years to see the mass appeal as people seek to cut down on their meat consumption.
 But as with anything prepared for a care home, dishes must still be nutritious, enticing and convenient for the kitchen staff to prepare," Scott Oakes, commercial manager for Baker Street, part of the St Pierre Groupe, says, adding that its burger buns and hot dog rolls can inspire plant-based menu options, such as halloumi and bean burgers. He suggests meat-free hot dogs, topped with crispy onions and sauces, as an option which may be new for residents but is simple for cooks.
The move towards vegan diets is not only limited to food, with growing demand being seen for plant-based alternative milks. "It has never been more important for care home caterers to source dairyfree alternatives for the increasing number of residents who choose to follow a vegan diet out of choice, in addition to those residents that cannot tolerate dairy," says Karen Green, marketing manager at Aimia Foods. "Luckily, it is easy for care home caterers to offer a wide range of dairy-free options as all corners of the industry have embraced the UK's fastest-growing vegan trend and introduced specialist products to meet demand. For example, with a multipurpose vegan drinks mix such as Iglooh, care home caterers can whip up a whole menu of delicious plant-based soft drinks from a single base ingredient."
Ultimately, residents have individual tastes, and while some may be happy eating comforting favourites, others will be keen to sample your latest creations. Whether it is introducing new vegetarian options or embracing new flavours, there are more opportunities than ever for care caterers looking to shake up their menus.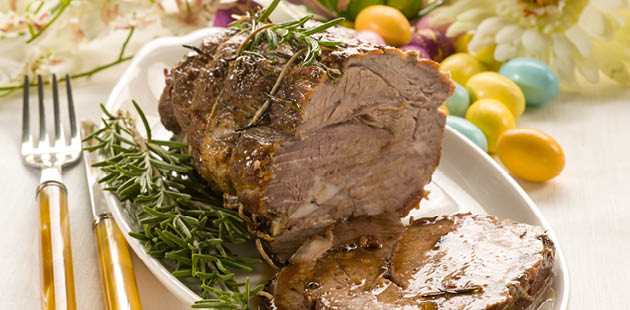 Care caterers can make Easter a special event for residents 
Easter inspiration
Special occasions in the calendar can drive interest in meals and give residents something to look forward to, says Williams, pointing to Easter as an example. With Covid restrictions continuing to lift and homes cautiously returning to visits, he says these occasions are opportunities to involve relatives and loved ones with mealtimes.
"Easter lends itself to an occasion with which family can be involved," he says. "Consider holding an egg hunt for grandchildren in a garden space at your site, before inviting families to join residents for an informal Easter afternoon tea of sandwiches and seasonal cakes. Alternatively, an Easter roast lunch with fresh seasonal vegetables is budgetfriendly and nutritionally strong too."
Involving residents in the initial menu planning, perhaps by asking about what they ate for Easter as children or with their loved ones, makes it a collaborative experience, while promoting dishes in advance gives time to create excitement in the home and tie in other themed activities. But don't limit your planning just to what goes on the menu, Williams says.
"Caterers should not only be planning the food that's being served, but the way it's being served too," he explains. "Simple touches like bright yellow napkins, and small chocolate eggs decorating an Easter day table can be a great way to add interest. There will of course be tableware decisions to be made depending on the residents in your care – be sure to consider how easy crockery and cutlery is to handle which will make a huge difference to the all-round dining experience. Plates with colourful rims may make eating much easier for those with poor eyesight, while special cutlery which is designed for supporting those with reduced dexterity is useful too."
Toon agrees, adding: "Food also brings events to life, which gives us a chance to get creative and draw on trends. We enhance events with special menus. These range from traditional calendar dates such as Burns night and VE Day to fine dining-style meals, which enable our residents to enjoy foods such as duck confit. Our daily afternoon teas showcase a selection of delicious homemade cakes and treats.
You may also be interested in…