Care catering forum 2022 - first speakers announced
Put it in your diaries! The countdown is on for our Care Home and Hospital Catering Forum - here's a look at what's on the agenda so far.

POSTED: Apr 13, 2022
The pandemic may have paused events over the last two years, but planning for our Care Home and Hospital Catering Forum 2022 is fully under way.
Due to be held in person at Haberdashers Hall in London on June 13, its theme is Challenge and Change, which feels apt after such a turbulent time. Working in care homes through the pandemic was not easy, with challenges faced in every role. Catering teams had (and continue) to contend with supply chain issues, wearing heavy PPE in busy, hot kitchens and, of course, fears over spreading the virus to loved ones, colleagues and residents. With visits at care homes stopped or limited for much of the pandemic, care teams also had to be aware of the impact on residents' wellbeing, which, as you know well, goes hand-in-hand with their physical health.
It was, to put it lightly, difficult. But we appear to now becoming out the other side, with restrictions lifted and visits reintroduced in many homes. The clouds have lifted enough for us to consider how the sector may change going forward. While some details are yet to be confirmed, here we've taken a look at some of the speakers lined up to take part in our forum. It will also see the winners of our Care Home Catering Awards 2022 announced - to read more about the finalists, click here.
We'll have experts sharing their insight on the challenges of navigating special diets and allergies, as well as expertise on how caterers can share their excellent work with not just fellow chefs but also residents' families on social media, and what impact that can have on homes. The National Association of Care Catering is due to be joining us, while Chef of the Year 2020 winner Kay Whiteside will be taking part in an on-stage interview. There will also be exhibitions for you to browse, where suppliers will be showing off their latest products.
To book your tickets, visit chcforum.co.uk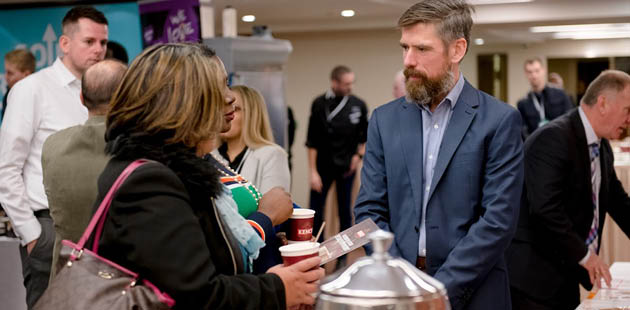 Our care catering forum 2019
Dietary diversity
From dysphagia to dementia and allergies to dehydration, catering for complex dietary needs is a key part of a care caterer's work. The forum will hear from Mark Meacham and Chris Bonner, from care provider HC-One, who will talk about their commitment to dietary diversity, adapting menus for residents with individual needs and providing person-centred catering.
Meacham is HC-One's head of catering and housekeeping support services, and transitioned to the care sector after 24 years as a chef in the British Army. He says he is dedicated to encompassing quality, safety and diversity into all areas of hospitality, as well as different cultures and traditions.
Meanwhile, Bonner, HC-One's development chef, has worked in catering for over 25 years, from a role in a pub to 15 years as a chef in the Army. He loves experimenting with new dishes and working with colleagues to improve all aspects of food and culinary services. They will share their knowledge and expertise in the complexities that catering in carepresents and how they've overcome these challenges, including managing allergies anddietary requirements. The pair will discuss what goes into creating a care home menu, catering for seasons and special events, nutrition, special diets and its Vegetarian for Life Memory Care and Inclusivity Pledge.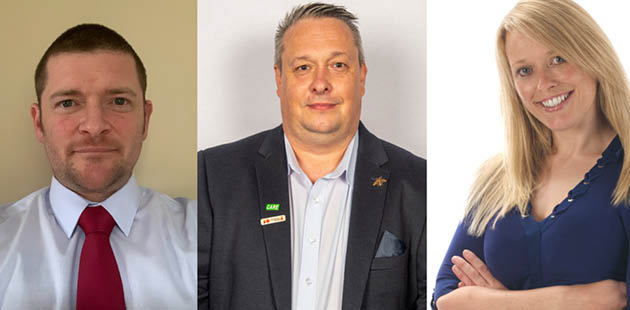 From left to right, Chris Bonner, Mark Meacham and Karen Fewell
Psychology of social media
More and more care chefs are showcasing their work on social media, not only sharing their high quality food with their communities, but also providing guidance and tips for their peers. While it encourages pride in the sector, it can also improve your cooking and build your home's visibility and reputation.
Karen Fewell specialises in branding and marketing strategy for hospitality, food and drink businesses. She helps clients to understand consumer behaviour and how to apply psychological principles to successful business activity. Whether it is product development, brand messaging or social media activity, Karen, who used the coronavirus lockdowns to study a masters in consumer psychology, combines the science with creative business ideas to drive results. She is now working on a dissertation about the psychology of sustainable food consumption.
She will be talking about how this can be applied in care settings and how caterers can best connect with audiences. She says: "Although we might think we're rational beings we're actually very emotionally driven. You might be surprised to learn that 95% of human decisions are actually made unconsciously and on an emotional level. This means that almost all of our decisions are not the logical, rational choices we often assume they are and therefore marketing and branding needs to reflect this. When it comes to social media, it's very easy to post away with little thought or planning which often leads to suboptimal results. In this talk, I will share advice on how to use social platforms to emotionally connect with your audience and use the science of persuasion to achieve the business results you wish."
Years of experience
Alex Hall, who has over 20 years of experience in food in a variety of different sectors and settings, will be joining us to speak at the forum. He has spent the last six years within Unilever Food Solutions as executive chef, supporting customers in the UK and Ireland in their businesses by simplifying menus or assisting with concept development. Having studied for his Professional Chefs' diploma at Westminster College, he went on to work in fine dining and Michelin-starred restaurants, before joining an event catering company.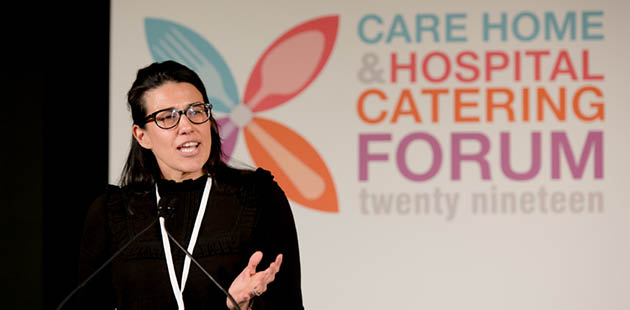 Our 2019 forum
Food inflation
A key issue for care caterers this year is likely to be food inflation, with a combination of factors – including rising energy prices, surging commodity prices and stubborn labour shortages – driving increases throughout the entire supply chain. That pressure is expected to continue throughout 2022.
Rachael Venditti, business development manager and registered nutritionist at food procurement experts allmanhall, is due to cover the topic and its impacts at our forum. She has over 15 years' experience in the catering and food and beverage sector. She has worked across a range of areas in the sector and has expertise in group procurement management, nutrition and menu development.
Predominantly working with care groups and caterers, Venditti helps them manage change and deliver improvements to their foodservice procurement and offering. As food procurement experts, allmanhall are well placed to provide insight regarding food inflation and other supply chain factors impacting the food caterers buy.
To keep up to date with latest forum news, make sure you're following our LinkedIn and Twitter pages. To book your place, visit chcforum.co.uk
You may also be interested in…