NACC chef competition deadline approaching
Care chefs have less than a week to submit their entry for the NACC Care Chef of the Year 2022 competition.

POSTED: Apr 19, 2022
The deadline for entries for the National Association of Care Catering's (NACC) annual chef competition is fast approaching.
The group has launched its Care Chef of the Year 2022 contest, which is open to chefs and cooks working in care settings and aims to recognise and showcase sector-specific knowlege, skills and flair.
Chefs have been tasked with creating a two-course menu (main and dessert) appropriate for people in a care setting. The combined food cost for both courses should be no more than £3 per head based on three portions and it must be nutritionally balanced. The menu must also feature at least one product from Unilever Food Solutions' sector-relevant catering range.
The deadline for entries is now on the horizon - they must be submitted by Monday 25 April.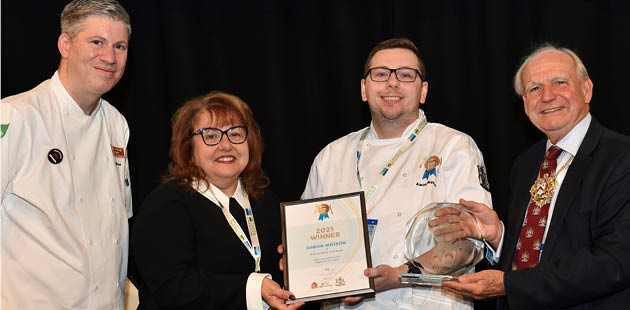 Last year's winner Aaron Watson being presented his award by NACC national chair Sue Cawthray
All paper entries will be judged by a central judging panel and the successful chefs that make it through to the next stage will compete at the regional heats in summer 2022. They will have 90 minutes to produce their dishes and demonstrate their knowledge under the watchful eyes of the competition judges. 
The two highest-scoring competitors from each regional heat will compete for the title NACC Care Chef of the Year 2022 at the national finals on Wednesday 5 October.
For more information on the competition and to download the entry form visit https://bit.ly/CareChef2022
You may also be interested in…