Chef focus: Stuart Middleton of Meallmore
Lauren Fitchett speaks to Meallmore's hospitality facilitator Stuart Middleton about his vision for care catering as he embarks on a new chapter

POSTED: May 19, 2022
Stuart Middleton's life in the kitchen followed, to begin with, a well-trodden path. He started as a kitchen porter, mucking in and washing dishes in a care home kitchen, before working his way up the ranks to become head chef.
Soon, he was overseeing six care homes in Scotland while studying at college to earn his qualifications.
After a few years, though, he sought pastures new when he left care catering to pursue work in hospitality. He quickly found it was a more difficult transition than expected, facing long-held – and unfair – perceptions of care catering.
"I found it a struggle at the time," he explains. "There was a lot of snobbery towards care home catering and I found it quite difficult to get a job. Eventually I got a break and did a bit of corporate hospitality and contract hospitality and learnt everything I could."
But in 2014, he spotted at job at provider Meallmore and decided to make the leap back to care catering. While the industry is now seeing more chefs joining with hospitality backgrounds, ones who began there, left and returned are still more rare. But Middleton's passion for the sector is evident – talk to him for 10 minutes and you'll leave fired up about the importance of care catering.
"I thought it would be nice to take that snobbery and eradicate it," he says. "Over the last two years, particularly with Covid, I think that cloud around care home catering has lifted. People are recognising it is a skilled sector. We have seen that with inductions and interviews with chefs from hotel backgrounds – they'll say they didn't realise how much they'd need to know.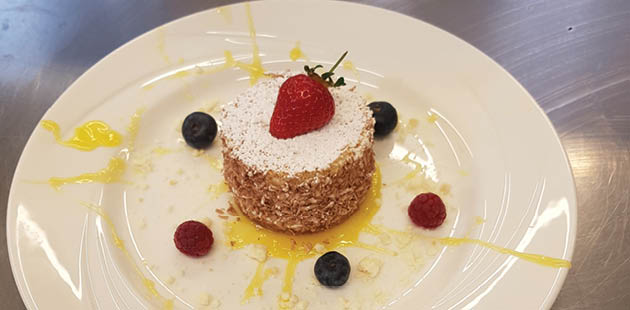 A dessert created by Middleton
"We are starting to see a different breed of chef come to us. It used to generally be people who were finishing up their career but now it's people who want a change and say 'I want to go to care homes and see what the buzz is about'."
In 2017, Middleton's cooking was given a badge of honour when he won the National Association of Care Catering's (Middleton is currently its Scottish chair) Care Chef of the Year 2017 competition, wowing judges with dishes which celebrated Scottish produce, including haggis, neeps and tatties and a dessert of Culloden cranachan.
"At the time I didn't really notice it, but when I look back on it now it really put me in the spotlight," he says. "It helped further my career. I had opportunities that I don't think I would have normally had. People were reaching out to me and asking for advice."
Today, his role as hospitality facilitator sees him mentor chefs and help with menu design across 12 homes in the Highlands and Aberdeenshire. With Meallmore's varied care provision – including nursing, dementia, respite, adult mental health and learning disability – Middleton says flexibility is key.
"To find a menu that's one size fits all is very difficult," he says. "We need to find something that everybody wants to eat, but which is individualised. There's no nutritional value in food that's gone in the bin. Everybody has to enjoy the food and that can be a challenge."
Often, that means creative tweaks to similar bases – while Taco Tuesday might work in certain settings, it may not in nursing or dementia care. Instead, the fillings might be used to create burritos which can be eaten with a knife and fork. The versatility of finger foods helps, too – steak pie can become vol-au-vent-style and eaten with hands, while macaroni cheese can be turned into a breaded croquette-inspired bite.
Of course, there are classics which are consistently, and almost universally, popular – Middleton says taking options such as mince and tatties and steak pie off the menu would not be a wise move, while residents look forward to Friday fish and chips.
While it is easy for care chefs to stick to the classics – after all, the goal is to keep residents happy and well-fed – Middleton says caterers shouldn't ignore more adventurous options. "As long as you are playing to your audience, there's scope for chefs to be massively creative. There shouldn't be any barriers to creativity just because chefs are in a care home. I remember one of my first dishes was enchiladas and I thought 'there's no way they will like it', but it went down a storm."
To ease residents into new flavours, and to allow chefs a chance to practice, Middleton says Meallmore runs tasting events so everyone can sample proposed new menus. Often, the events throw up surprises – dishes such as pork sliders and Asian coleslaw, which teams feared would not be popular, have proved to be unexpected hits.
In July, after eight years with Meallmore, Middleton is set to begin a new chapter when he joins Renaissance Care, which provides nursing and residential care to over 650 residents in 16 homes across Scotland. "It was time for a new challenge," he says. "I've learnt lots at Meallmore and it's been a great place to be."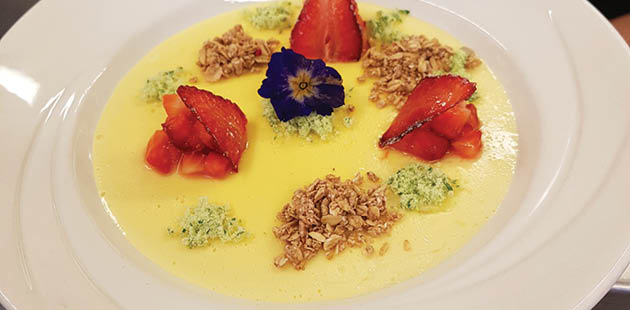 One of Middleton's desserts 
For chefs following in his footsteps and embarking on a career in care, Middleton says hard work pays off – and urges them to approach kitchens with a fresh pair of eyes. "I always ask myself – if decisions aren't benefiting our residents, then why are we doing it? Is it to make kitchen life easier? If so, that's the wrong decision. Don't be scared to question things," he advises.
And as a new era beckons, Middleton concludes: "I really like the fact that I really do have the opportunity to make a difference in care catering. For chefs in mainstream industries it can be a very thankless job. At the heart of any home is the kitchen and that's even more important in care homes."
For more care catering news and features, you can follow us on LinkedIn or Twitter.
You may also be interested in…