Taking stock: Using sauces to enhance your menus
From soups to curries, stocks and sauces are integral to countless dishes – we talk to the experts about the making the most of them on your menus.

POSTED: May 30, 2022
Whether it's a creamy béchamel or rich marinara, some plates of food just aren't complete without a sauce. Not only do they bolster flavour and make dishes more appealing, vital when it comes to encouraging residents to tuck in, but, when fortified, sauces offer an extra opportunity to up both nutritional and fluid intake.
We might agree on their importance, but a trickier decision is whether to prepare them in-house or turn to a ready-made product. While cooking them from scratch ensures control over the process, pre-made options are convenient in a busy kitchen. At Excelcare, Andrew Seal, care quality and transformation - hospitality lead, says his chefs strive to make their stocks and sauces from scratch where possible.
"It's important to remember that the people we are cooking for generally grew up in a time where the convenience products we are used to weren't around," he explains. "They are often used to home-made sauces, stocks and gravies. There are more convenience products now, so it's really important to make sure we are getting back to those core skills, from the perspective of the people who live with us, but also because we have a real responsibility in care catering to make sure we are keeping those skills of home cooking alive."
Seal says their stocks (see his recipe for chicken stock below) use what's available in the kitchen, from chicken wings to juices from gammon. It also provides an opportunity for fortification. "We often go down the route with fortification of using dairy, it's often cream or milk," he explains. "But there are so many other ways to add calorific density and protein. We often forget the savoury side of things as well, such as pesto, with lots of oil and nuts."
But at the end of the day, making everything from scratch is not always practical. "We do have to be realistic and say the preference is always for using home-made and from scratch products, but because we offer 24-hour nutrition and hydration, if they require something that needs a base jus, for example, that is not a quick process and being able to have things you can offer instantly has benefits," Seal says.
Caterers keen to whip up their own sauces should consider using time-saving equipment. "Stocks and sauces prepared in-house can be highlighted for their purity of ingredients, freshness and provenance," says Tom Bentham, Rational corporate chef. With technology used by multifunctional appliances including its iVario Pro, caterers can programme in recipes to keep the finished product consistent and less labour-intensive. Elements of recipes can also be more easily tweaked depending on dietary needs.
James De Jong, development chef at Creed Foodservice, says, from pie fillings to braises, the desire to cook from scratch can be hard to ignore. "Always ask your meat supplier if they can provide off-cuts and bones for free which is a great low-cost option for starting a stock," he advises. "Firstly, get a great colour on the bones by roasting them in an oven tray. Any vegetables being used to make the stock base should also be cooked in the same pan. Cook low and slow, to ensure the clarity of the stock. Finally, to be thrifty, consider straining the stock twice, using the second batch of stock for lighter dishes which doesn't require such intensity from a base flavour."
Raring to go
There is a vast array of sauces, gravies and stocks available which can save time, enable caterers to respond to resident demand more quickly and keep results consistent. After all, a sauce which leads to empty plates will be worth repeating.
"Different formats of stocks and sauces are tailored to different users, from classic scoop-and-go powder stock for everyday use, right through to demi-glace and ready-to-go jus for special meals and occasions," says De Jong. "They all have their place in a care setting, but the former tend to be the most common given that budgets can often be tight… They give chefs and kitchen managers headspace by ensuring consistency every time, no matter the team available."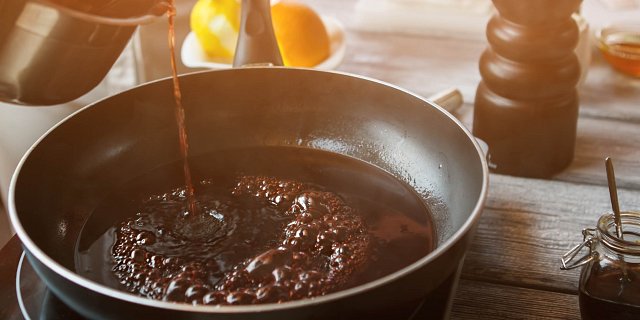 Stocking up on ready-made products which are gluten and allergen-free, vegan and low in salt means caterers can be confident they are meeting dietary needs. "Classic products such as red wine reductions and base sauces such as hollandaise and béchamel are still incredibly important in many kitchens," he adds. "They offer a chance for chefs to add ingredients and adapt and tailor a base product to their own menus to give them a personalised spin, or to customise specifically to the residents' preferences."
Ian King, national account manager at Major International, says more products are prioritising health, pointing to its immunity-improving solutions, including Gluten-Free Gravy Granules with Vitamin D. Ultimately, he says, care chefs are looking for products which deliver convenience, consistency and quality. "This is where ready-made stocks, gravies and sauces can really come into their own," he explains. "Using the latest manufacturing innovation and combining exceptional flavours, ready-made products can deliver both time and cost savings, while also producing the consistency in flavour and texture that chefs are looking for."
While chefs may feel it is a badge of honour to prepare sauces, King says it is not a lack of knowledge that makes ready-made products desirable, but rather time and resource. "Producing a meat stock from scratch can take upward of eight hours to achieve the depth of flavour and rich colour desired," he says. "Throughout this time, the chef must keep an eye on the stockpot, ensuring they are skimmed and the correct liquid level is maintained. During this time, a stockpot needs to be on a stove, drawing energy continuously – a costly exercise, particularly at a time when energy prices have risen dramatically."
In time and cost-conscious kitchens, James Lewin, marketing manager at Tiger Foodservice, agrees ready-made products can take pressure off busy chefs. "Ready-made stocks, gravies and sources are extremely convenient providing consistency of quality and saving valuable time in the kitchen especially if resources and/or skill sets are reduced," he comments. "When catering for residents with special dietary requirements such as gluten-free, reduced salt or vegetarian, it's also reassuring to know that the products have been manufactured specifically to meet the needs of potentially vulnerable people. Ready-mades also help take the guesswork out of costing and portion control."
Global flavours
While the classics will always feature on care home menus, plenty of residents are willing to try new flavours. From regional curries to Mexican flavours, sauces are an effective way of delivering adventure in dishes. "Sauces and condiments have always been the gateway to new cuisines and flavours and can be a very effective way to add interest to care home menus," adds Lewin.
Alison Smith, global product developer for Mars Foodservice, agrees, saying sauces such as its Ben's Original Professional and Dolmio Professional give caterers instant access to flavours from around the world. "Most importantly, caterers can also ensure that the sauces are suitable for a care home environment and have the nutritional value that residents need," she adds. Chefs looking for inspiration can use its '5 ways with' videos – for example, it suggests dishes including a sweet potato curry, marinade for lunchtime lamb tikka or Indian Mulligatawny soup using its tikka masala sauce.
Whether you cut down on waste to create a rich stock or explore the ready-made market, there are all manner of ways to use stocks, sauces and gravies to refresh your menus and create excitement about your dishes.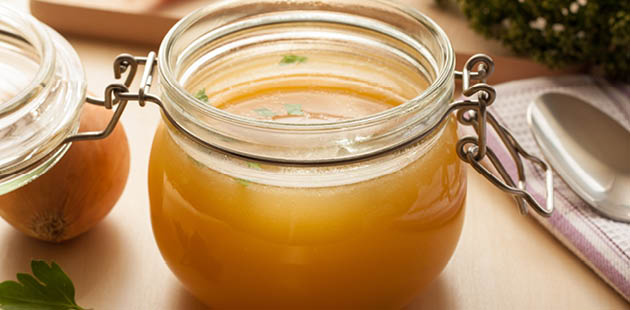 Recipe: Chef Seal's Chicken stock
From risotto to cassoulet, a good chicken stock is the starting point for dozens of dishes. Seal encourages caterers use the aromatics they have available.
Ingredients  
Roughly 1kg of chicken carcasses, bones or wings – roasted if possible
2 litres of water
1 carrot, chopped
1 onion, chopped
1 leek, chopped and washed
1 sprig of rosemary
2 sprigs of thyme
2 parsley stalks
5 peppercorns
2 bay leaves
2 garlic cloves
Place all the ingredients into a large saucepan. Add cold water and bring to the boil, skim the surface and turn down to a simmer. Simmer for 3 to 4 hours, continuing to skim periodically. Pass through a sieve or muslin cloth and either use straight away or freeze in batches. This makes one litre of concentrated stock.
Chef's tip
If there is a lot of oil or fat rising to the top, use ice cubes to skim the surface. Take a large container of ice cubes and pour into the stockpot. The fat will solidify and stick to the ice, making it much easier to remove with a slotted spoon.
For more news and features about care catering, you can follow us on LinkedIn and Twitter.
You may also be interested in…