Care chef learns from Marcus Wareing
Care chef Stowell Barry trained under the Forward with Marcus Wareing scheme.

POSTED: Mar 30, 2022
A care chef has taken part in a culinary training programme with esteemed chef Marcus Wareing.
Stowell Barry, chef manager at RMBI's Zetland Court in Bournemouth, took part in Forward with Marcus Wareing initiative as part of his Senior Culinary Chef Level 4 Apprenticeship.
As well as honing culinary skills, the programme includes a dedicated module on sustainability, looks at the commercial side of the business, considers how to create a more diverse kitchen team in terms of social mobility, gender and ethnicity, as well as developing mental first aider skills and mentoring of leadership styles.
"Marcus always said to all 15 of us apprentices 'work well as a team but, as an individual, always stand out and strive to exceed all expectations," Barry says.
Wareing adds: "This cutting-edge culinary training programme was designed to build skills, grow knowledge and expand imagination. Candidates were able to explore every aspect of the modern kitchen, from culture to commerce, question assumptions and challenge conventions with guidance from myself."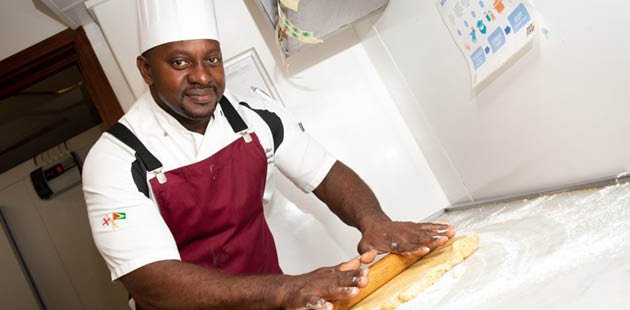 To become part of the first cohort, Barry, along with dozens of other chefs, had to undergo a rigorous and fair selection process. This included being interviewed by a panel of judges (headed up by Wareing) where he had to elaborate on how the training course would support his skills development. This will further enhance the home-from-home dining experience that residents enjoy at his home.
This culinary programme was arranged by Compass Group UK & Ireland, parent company of White Oaks, which teamed up with Zetland Court to provide enhanced catering services to the home's residents and staff.
Jonathan Foot, head of apprenticeships and early careers at Compass Group UK & Ireland, says: "This is part of Compass' commitment to support development at every stage of our people's careers. Forward with Marcus Wareing looks beyond cooking techniques to the realities of the climate crisis and food system. It is all about future-proofing our chefs and forging a new generation of industry leaders."
You may also be interested in…