Specialist dementia care home welcomes first resident
Blythe Rose, in Solihull, is the latest addition to the Macc Care group.

POSTED: Jun 16, 2022
A specialist dementia home in the West Midlands which will enable its community to be independent has welcomed its first resident.
Blythe Rose, a new dementia home in Solihull, is the latest addition to the Macc Care group, which says the new home will strive to pave the way for dementia care in the area.
The new home offers residents a range of activities — there's a luxury salon, coffee bar, communal cinema and small shop. The home will be separated into six individual lodges, each with 12 to 15 bedrooms, to create a sense of independent living and encourage residents to engage in everyday domestic activities.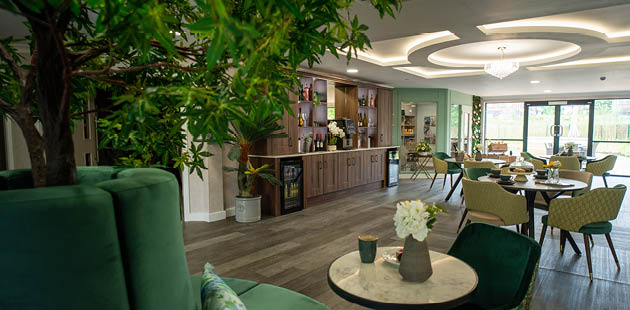 A communal area at the new home 
Blythe Rose's first resident, 78-year-old Jennifer, who was brought up in nearby Walsall, has described the home as "beautiful".
Commenting on the official opening of Blythe Rose, commissioning manager Cheryl Harbourne MBE, said: "We are over the moon to finally be opening our doors to residents, and my amazing team and I can't wait to welcome them with open arms. Blythe Rose is an amazing care home and a project that left no stone unturned when it came to creating an environment that supports those suffering from dementia. Meeting Jennifer was a memorable moment for all of us here and we're excited to expand our family — offering more people a level of care that goes far beyond their clinical needs."
She added: "Community is going to be everything at Blythe Rose and our amazing communal spaces will no doubt lend themselves perfectly to the exchange of childhood stories and the formation of new friendships. We also want our residents to express their independence and will ensure to offer them the opportunity to dictate their own lives within a supportive and compassionate framework. If they want to clean the dishes, we will allow them to do so. If they want to potter in the garden, we will let them do just that. That's what it's all about at Blythe Rose."
For more catering news and features, you can follow us on Twitter and LinkedIn. 
You may also be interested in…