Care home to hold dementia café for foundation
The Belmont care home will host a dementia café with the Worcester Warriors Community Foundation every two weeks.

POSTED: Apr 13, 2022
A newly-opened care home will become the second venue to host a local dementia café.
The Belmont care home, in Worcester, has become the Worcester Warriors Community Foundation's second venue, with cafés set to take place at the home every two weeks from 10.30am to 12pm.
The Worcester Warriors Community Foundation first set up its dementia café in 2017, with the aim of providing a space for people within the community to meet, share support and get to know one another.
The Belmont will also be a foundation sponsor, to support the growing demand within the community and reach more people living with dementia and their families. It will also host an interactive dementia session on 3 May, run by Paul Gaskell, director of wellbeing and dementia services. Those interested are encouraged to call and book a space.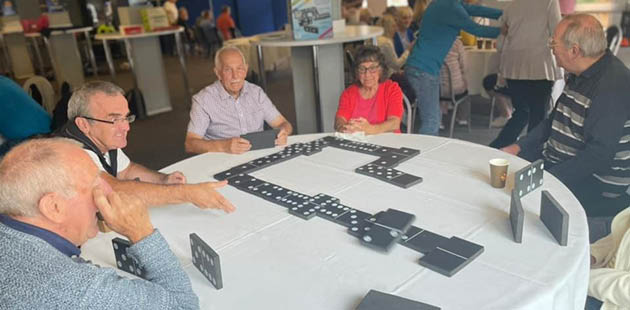 People visiting the original dementia café
Tommy Fellows, customer relations manager, and Sandie Preece, home manager, say: "We are so excited to be supporting with an additional dementia café in partnership with everyone at the foundation, we look forward to supporting families and those living with dementia and hosting these regular opportunities to help visitors meet new friends, get support and, above all, have fun in a relaxed setting."
Carol Hart, Worcester Warriors Community Foundation chief executive, adds: "The Warriors Community Foundation is delighted to expand its service provision for people living with dementia. Since our start up café based at Sixways Stadium began in 2017, we have seen an increase in need for the type of service we offer. 
"We are now in a position to offer this service to more people out in the community alongside partners such as The Belmont. The Belmont has second to none facilities and we can't wait to start delivering our fun and engaging programme of activity to their residents and the wider community at absolutely no cost."
You may also be interested in…