Experts tackle key issues for care caterers at forum
Speakers provided care caterers with practical tools and advice at our Care Home and Hospital Catering Forum 2022.

POSTED: Jun 14, 2022
Experts in their fields have shared advice for care caterers looking to weather the challenges of 2022, including the soaring costs of food and importance of protecting the planet.
Our Care Home and Hospital Catering Forum was held on Monday 13th June at Haberdashers Hall in London, marking its return after three years. Its aim was to not only consider the key issues facing care catering, but also act as a celebration of the sector, with the Care Home Catering Awards 2022 presented at the end of the day. 
The forum began with a talk from Mark Machin, food development manager at the Soil Association, who considered the benefits and practicalities of shorter supply chains, from reduced food miles to greater resilience during times of instability. He introduced its Food for Life programme, which aims to reconnect people with where their food comes from, and sees the association work with care homes, hospitals, schools, nurseries and more.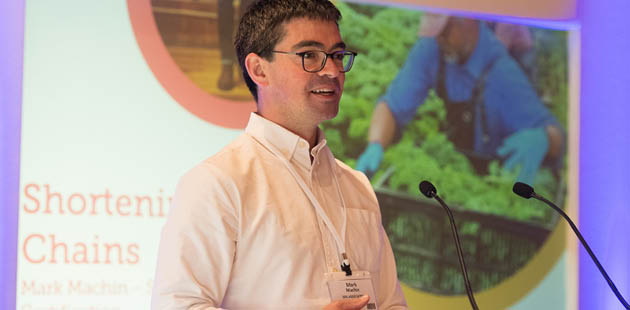 Mark Machin, of the Soil Association
He was followed by Chris Bonner, development chef, and Mark Meacham, head of catering and housekeeping support services, at care provider HC-One, who looked at the challenges of catering for multiple diets and how to manage the complexities in a streamlined way. They explained how they track residents' needs to ensure there is a centralised, up to date record, as well as revealing they have signed up to charity Vegetarian for LIfe's Memory Pledge, which ensures that vegetarians or vegans who have capacity issues, or cognitive losses, will be offered a choice of meals, drinks and snacks that reflect their beliefs.
Rachael Venditti, business development manager at allmanhall, talked caterers through ways to mitigate the impact of food inflation. Costs are expected to continue to rise again in 2022, before levelling out next year, she said. Venditti encouraged caterers to examine the factors they can control, from consolidating deliveries to keeping a focus on more volatile products.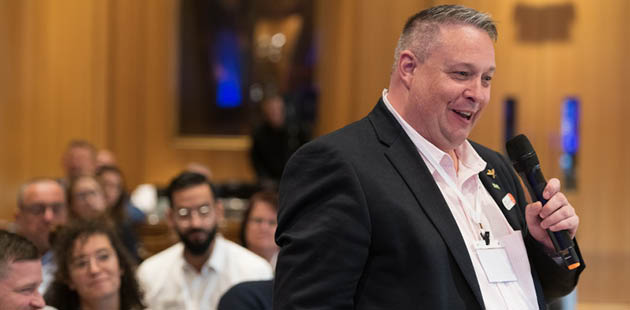 HC-One's Mark Meacham answering a question from the audience
Luke Moss, programme and development manager at Exeter College, and Phil Shelley, senior operational and policy manager at NHS England and Improvement, explained their ongoing work to promote 'hidden careers' within healthcare, including catering. In April, the college held its first NHS Hidden Careers Day, to support students into work and highlight critical roles which can be overlooked, a crucial project in a time of widespread recruitment challenges.
Sue Cawthray, national chair of the National Association of Care Catering (NACC), spoke about the importance of the care catering sector becoming a community within a community - building bridges, working together and forging connections with local businesses. She gave an example of Harrogate Neighbours, where she is chief executive, doing so with local food hall Crimple, through which they have been able to reduce their food waste.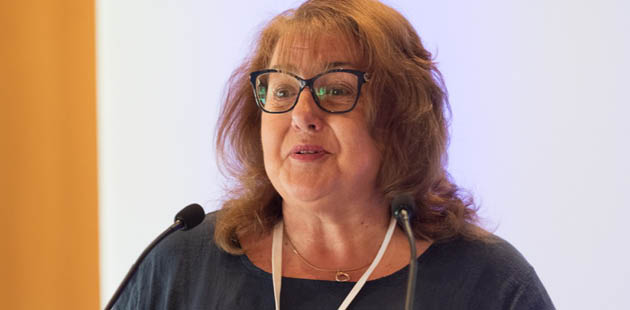 Sue Cawthray, national chair of the National Association of Care Catering 
Returning to the topic of recruitment, an ongoing challenge in the sector, Richard Garnett, head of health and social care partnerships at The Prince's Trust, which supports 11 to 30-year-olds who are unemployed, used case studies to show the impact of its work, including one young person who had found a catering role at the Norfolk and Norwich University Hospital after joining its programmes.
Sustainability was a theme throughout the day, with Paul Hawkins, business development chef at Unilever, covering areas that caterers should consider when it comes to cutting back on food waste, such as how food is served and making the most of leftovers. He gave examples of banana, which can be used in banana bread or frozen and made into an ice cream-style dessert, and broccoli, saying that caterers who only use the florets are wasting a significant part of the vegetable. Instead, he said, use the stalk in soups or stir-frys.

The forum was held at London's Haberdashers Hall 
After lunch, during which attendees browsed exhibitions from key suppliers to the sector, Ellen Fletcher, senior policy advisor at Defra, spoke about changing national policy, in the light of the publication of the government's plan in response to Henry Dimbleby's food strategy for England. She said Defra hopes public sector catering can become an exemplar to wider society of food that is beneficial to our health and the planet.
The final speaker of the day was Karen Fewell, director at Digital Blonde, who delved into the psychology of social media, explaining that most human decisions are made emotionally, rather than rationally. She said caterers looking to improve their social media use should aim to tell stories with their posts, saying that strong images and details enable audiences to better connect with the poster. 
Lauren Fitchett, editor at Care Home Catering, said: "We'd like to thank all of our speakers for taking the time to share their expertise with our attendees. It was our first event in three years and we were delighted to see so many people from the sector there. We hope everyone left with practical advice and tips they are keen to implement in their own kitchens."
For the latest care catering news and features, you can follow us on LinkedIn and Twitter.
You may also be interested in…